Eucommia Extrac
t
of
Hunan Sunfull Bio-tech Co., Ltd.
Latin Name:
Eucommia ulmoides
Oliver
Family:
Eucommiaceae
Part of the Plant Used
:
Bark/Leaf
Active Ingredients:
Chlorogenic acid
Molecular Structure of Active Ingredients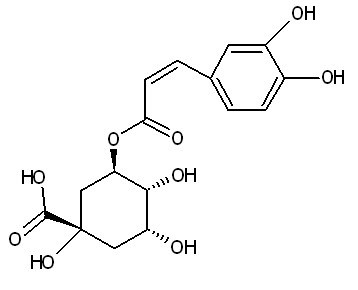 Molecular formula:
C16H18O9
Molecular weight:
354.31
CAS No.:
327-97-9
Product Specification
5~98% Chlorogenic acid
Product Introduction
Eucommia is mainly grown in temperate regions of Asia mostly in China such as Guizhou, Sichuan, Hunan. The medicinal use of Eucommia ulmoides dates back to ancient Traditional Medicinal Chinese (TCM) including the texts of Yellow Emperor's Internal Classic (Huangdi Neijing) (475-221BC) . It has been used classically as a combination with other medicinal herbs or as a single agent to treat lower back pain and knees and strengthening the tendons and bones. In addition, it has also been used for prevention of miscarriage In modern medicine, majority of the preliminary data lend support to its use in osteoporosis, arthritis, hypertension with purported actions such as anti-oxidant and anti-inflammatory properties. From the long historical usage of over 2000 years and numerous preclinical and clinical studies, Eucommia ulmoides proves to be safe and non-toxic.However, there is no substantial evidence on its use during pregnancy, lactation and childhood.
HPLC Chromatogram of 98% Chlorogenic acid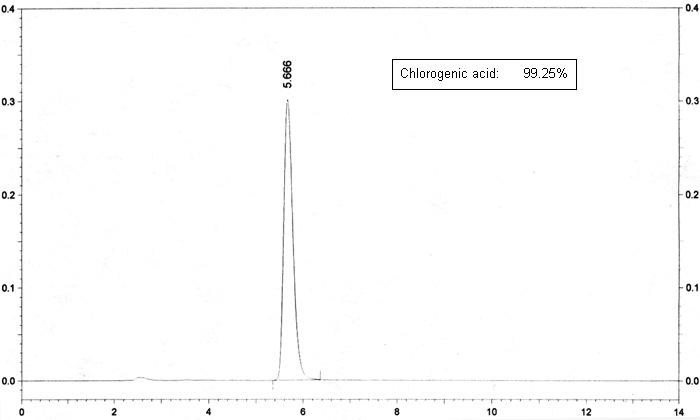 Physiological Functions
Antioxidant , anti-infectious, anti-virus, anti-bacteria effects
Applications
1. Pharmaceutical stuff
2. Herb Tea like Du- Zhong tea
3. Functional food and food additive
4. Cosmetics
Company Introduction
HUNAN SUNFULL BIO-TECH Co., Ltd., certified with ISO9001, ISO22000, Kosher, HALAL & HACCP, and specialized in the R&D, production and marketing of high value green tea and botanical extracts for dietary supplement, beverages, cosmetics & pharmaceuticals. We're the global leading manufacturer of green tea EGCG, (-)-Epicatechin, L-theanine, Theaflavins & Tea Polysacchrides. Our key botanical extracts including Aronia extract, Broccoli extract (Sulforaphane), Ginseng extract, Luo han guo extract, Maca extract, Milk thistle extract, etc. And many APIs (Amygdalin, Magnolol, Polydatin, Resveratrol, Sanguinarine, Swertiamarin, etc. ) Our products have been enjoying great popularity in the world markets due to their superior quality and competitive prices. SUNFULL also has becoming the 1st choice of natural ingredientsto many global famous enterprises and their most important strategic partner in China.