Honey Suckle Flower
Extrac
t
of
Hunan Sunfull Bio-tech Co., Ltd.
Latin Name:
Lonicera Japonica
Thunb.
Family:
Caprifoliaceae
Part of the Plant Used
:
Flowers
Active Ingredients:
Chlorogenic acid
Product Specification:
5% ~ 98% Chlorogenic acid
Molecular Structure of Active Ingredients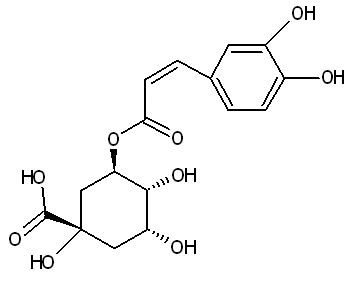 HPLC Chromatogram of Honey Suckle Flower P.E. 98% Chlorogenic acid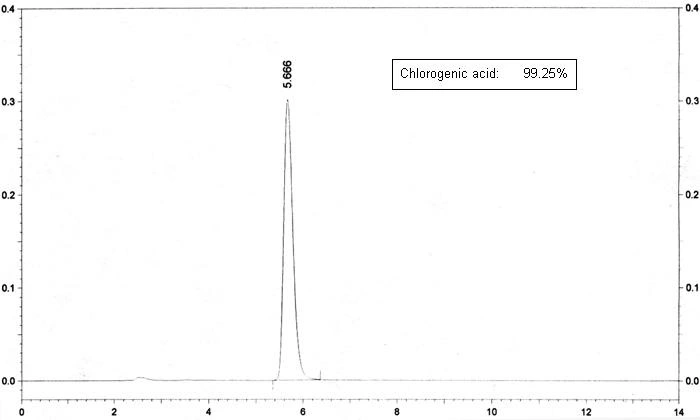 Product Introduction
In Traditional Chinese medicine, Honey suckle flowers are among the important herbs for clearing away heat and relieving toxic materials. This herb relieves "fire toxicity" manifesting itself as hot, painful sores or swellings of the eyes, throat, or breast. It expels "wind-heat" manifesting itself as sore throat or headache when one catches cold. And it treats "damp heat" manifesting itself as bladder infection. Modern laboratory research has confirmed that the flowers have an inhibitory effect on the bacteria that cause salmonella, staph, strep, pseudomonas, and tuberculosis infections.
Chlorogenic acid is the most important phenolic compound in Honey suckle flowers and has been known as an antioxidant for a long time. It is also an inhibitor of the tumor promoting activity of phorbol esters; and might therefore contribute to the prevention of Type
II
Diabetes Mellitus and cardiovascular disease
.
Physiological Functions
This substance is claimed to have effects of antiviral, antibacterial and antifungal with relatively low toxicity and few side effects, alongside properties that do not lead to antimicrobial resistance. Recent studies showed that chlorogenic acid has been proven in animal studies in vitro to be able to inhibit the hydrolysis of the glucose-6-phosphate enzyme in an irreversible fashion. This mechanism allows chlorogenic acid to reduce hepatic glycogenolysis (transformation of glycogen into glucose) and to reduce the absorption of new glucose. In addition, vitro studies on animals have demonstrated that the administration of chlorogenic acid lessens the hyperglycemic peak resulting from the glycogenolysis brought about by the administering of glucagon, a hyperglycemiant hormone. The studies also confirmed a reduction in blood glucose levels and an increase in the intrahepatic concentrations of glucose-6-phosphate and of glycogen.
Applications
Chlorogenic acid is marketed under the tradename Svetol® in Norway and the United Kingdom as a food active ingredient used in coffee, chewing gum, and mints to promote weight reduction. Potential uses are also suggested in pharmaceuticals, foodstuffs, feed additives, and cosmetics.
1. Pharmaceutical stuff
2. Healthy beverage industry
3. Functional food and food additive
4. Cosmetics
Company Introduction
HUNAN SUNFULL BIO-TECH Co., Ltd., certified with ISO9001, ISO22000, Kosher, HALAL & HACCP, and specialized in the R&D, production and marketing of high value green tea and botanical extracts for dietary supplement, beverages, cosmetics & pharmaceuticals. We're the global leading manufacturer of green tea EGCG, (-)-Epicatechin, L-theanine, Theaflavins & Tea Polysacchrides. Our key botanical extracts including Aronia extract, Broccoli extract (Sulforaphane), Ginseng extract, Luo han guo extract, Maca extract, Milk thistle extract, etc. And many APIs (Amygdalin, Magnolol, Polydatin, Resveratrol, Sanguinarine, Swertiamarin, etc. ) Our products have been enjoying great popularity in the world markets due to their superior quality and competitive prices. SUNFULL also has becoming the 1st choice of natural ingredientsto many global famous enterprises and their most important strategic partner in China.